VP Communications: Alexandra Wong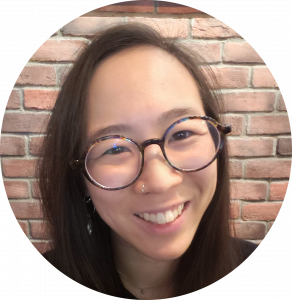 Alex is a second year MI student specializing in Library and Information Science. As the VP Communications, she is excited to connect iSchool students with MISC events and efforts, as well as to contribute and collaborate with all of the MISC council members.
Prior to joining the iSchool, Alex spent a couple years working in the software industry after receiving degrees in Math and Business at the University of Waterloo and Wilfrid Laurier University respectively. Now, she also works as a TALint student within UTL's Information Technology Services department. Lest this make her seem too much of an oddball, she is also proud of her hobbies of reading, knitting, and cardigan-wearing. She's most often found with a coffee or tea in hand (and in a reusable mug), though she also drinks way too much bubble tea and never enough water.
email: alexandrae.wong@mail.utoronto.ca
---
The VP Communications attends and contributes to all MISC meetings and is allotted one vote. The VP Communications is responsible for MISC's front-facing promotions and communications, ensuring that MISC has a cohesive brand and is communicating on our platforms effectively. The VP Communications works with the President to devise communication strategies for different MISC events and initiatives, and works with the different Committees, Representatives and Working Groups of MISC to help promote their events and activities. The VP Communications is also responsible for preparing the weekly MISC newsletter (MISCy Business).
General duties include:
Preparing and sending out the MISCy Business newsletter each Monday

Creating promotional material (posters and social media images) for MISC events (in collaboration with MISC 0Committees/Working Groups

Creating Facebook events, Instagram posts, registration links (Eventbrite/Google Forms) to promote MISC events

Ensuring that the MISC Calendar is up to date with MISC events
The VP Communications, along with the President and all other Vice President positions, is also a member of the MISC Executive. The Executive is responsible for the day-to-day operations of MISC, and are responsible for high-level decisions about MISC's strategy and goals for each academic year.