Executive Vice President: Drishti Thakkar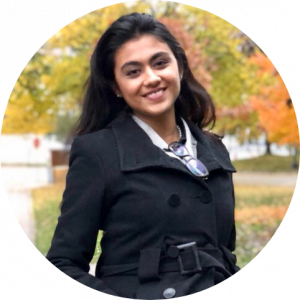 Drishti is a first year MI student concentrating in Information Systems and Design alongside pursuing her CFA designation. Drishti completed her undergraduate at University of Toronto studying Nutritional Sciences and Psychology. When not busy with academics, she can be found playing with flavours in the kitchen and writing new recipes or biking on yet another new trail.
drishti.thakkar@mail.utoronto.ca
---
The Executive Vice President (EVP) must be a first year student elected in September for a full year, and attends and contributes to all MISC meetings and is allotted one vote. They also automatically fill one of the Faculty Council Representative positions and GSU Representative positions. The EVP is also the first year representative to the iSchool Programs Committee. They may also act as the President's designate where required, such as acting as chair of meetings of the Executive Committee in the President's absence. The EVP generally assists the President with the day-to-day operations of MISC throughout the year in various ways as necessary.

The EVP, along with the President and all other Vice President positions, is also a member of the MISC Executive. The Executive is responsible for the day-to-day operations of MISC, and are responsible for high-level decisions about MISC's strategy and goals for each academic year.