Upper Year Co-Chair: Jessica Peng
Jessica is a second year Master of Information student in the Knowledge Management and Information Management concentration. She has an undergraduate degree in Global Health and Health Studies at the University of Toronto. In addition to being a full time MI student, Jessica is a student library assistant at two libraries on campus.
As a Social Committee Co-Chair for MISC, Jessica is excited to organize socials and events where students from all MI concentrations can interact as one interconnected community! In her spare time, she likes to jam on her guitar, (try to) learn K-pop dance choreos, and explore new restaurants!
email: jessica.peng@mail.utoronto.ca
---
Upper Year Co-Chair: Veronica Rutherford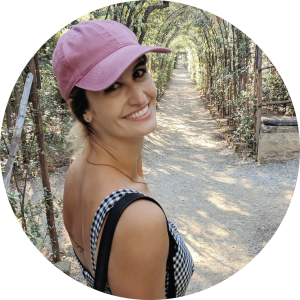 Veronica is a second year User Experience Design student. She came to University of Toronto from a background working in finance and teaching yoga in Italy after getting her undergraduate degree in Business and Political Science from Kalamazoo College. As a Social Committee Co-Chair, she is stoked to plan events (in-person and online) as well as help make everyone in the iSchool community feel welcomed. She also owns a cat named Coconut who is the real mastermind and always wants more belly rubs. In her spare time she likes to go practice yoga and go on long bike rides. Feel free to reach out and say hi, especially if you have an event idea you'd like to see!
email: v.rutherford@mail.utoronto.ca
---
First Year Co-Chair: Ariana Cuvin
Ariana is a first-year Master of Information student in the User Experience Design concentration. Before the University of Toronto, she earned her undergraduate degree at the University of Waterloo's Stratford School of Interaction Design & Business. As a Social Committee Co-Chair,
and as a person beginning their iSchool career in the middle of a global pandemic, she is looking forward to helping students engage with each other and feel connected while we're apart. She
loves chats and feedback, so feel free to hit her up with any ideas or suggestions you may have for future events, or just to say hello and make a new friend! Apart from school life, you will likely find her making all sort of things with her hands, head-bopping to some Broadway beats, or singing/art directing a virtual all-BIPOC cappella group.
email: ariana.cuvin@mail.utoronto.ca
---
The Social Committee is responsible for planning and executing a number of social activities to give students at the Faculty of Information a chance to meet up, network and get to know each other throughout the school year. The events planned by the Social Committee include gatherings on and off campus and events for special occasions such as the winter break and the end of the school year. The biggest projects for the Social Committee are the Meet and Greet during the summer and the Orientation Week BBQ.
You can view the Social Committee's events along with others on the MISC calendar. You can also follow us on Facebook and Instagram to keep up with what we have planned!
To contact the Social Committee, please send them an e-mail at misc.ischool@utoronto.ca.
Past Social Events
2019-2020
July
July 13: Incoming Students' Ice Cream Social (at the iSchool's Getting Started Event)
September
September 3: MISC & MUSSA Welcome Back BBQ (Orientation Day 1)
September 4: iSchool Amazing Race and Pub Night (Orientation Day 2)
September 5: MISC Trivia Night at Hart House (Orientation Day 3)
September 6: Yoga at the Inforum (Orientation Day 4)
September 27: Information students attend the #ClimateStrike
October
October 15: MI Fall Social
October 21: MISC watches #elxn43 at the UTGSU pub
October 25: MISC & MUSSA go to the ROM Friday Night Live
October 31: MISC Halloween Party
December
December 5: Free MI Breakfast
December 10: MI Holiday Party
January
January 17: MI Coffeehouse Open Mic Night
January 22: Monthly Pub Night #1 at Ein-Stein's
february
February 13: MISC Valentine's Day Breakfast
February 26: MISC Monthly Pub Night #2
March/April
The following events were planned for March/April 2020, but cancelled due to COVID-19:
March 18: MISC Monthly Pub Night #3 (St Patty's Day edition!)
March 25: MISC Pizza Lunch
April 8: MISC Monthly Pub Night #4
April 16: MISC's Annual End of Year Formal
2018-2019
September
September 5: MISC Orientation Movie Night
September 5: MI & MMSt Amazing Race and Pub Night
September 7: MISC Afternoon Social
October
October 31: iSchool Trick or Treating
October 31: Halloween Pub Night
October 31: Haunted Tour of UofT
December
December 9: MI Family Holiday Potluck
January
January 10: Frost Week Pub Night
February
February 14: Valentine's iTea Celebration
March
March 15: St Patrick's Day Pub Night
April