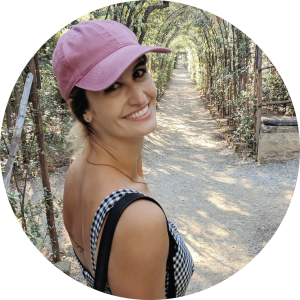 Veronica is a second year User Experience Design student. She came to University of Toronto from a background working in finance and teaching yoga in Italy after getting her undergraduate degree in Business and Political Science from Kalamazoo College. As a Social Committee Co-Chair, she is stoked to plan events (in-person and online) as well as help make everyone in the iSchool community feel welcomed. She also owns a cat named Coconut who is the real mastermind and always wants more belly rubs. In her spare time she likes to go practice yoga and go on long bike rides. Feel free to reach out and say hi, especially if you have an event idea you'd like to see!
email: v.rutherford@mail.utoronto.ca
---
Social Committee Co-Chair
The Social Committee is comprised of two Upper Year Co-Chairs and a First Year Social Representative. All MI students are welcome to join the Social Committee as student members/volunteers.
The Social Committee is responsible for planning and executing a number of social activities to give students at the Faculty of Information a chance to meet up, network and get to know each other throughout the school year. The events planned by the Social Committee include gatherings on and off campus and events for special occasions such as the winter break and the end of the school year. The biggest projects for the Social Committee are the Meet and Greet during the summer, Orientation Week events, and the annual End of Year Formal Event. Each Co-Chair is allotted one vote at MISC meetings.